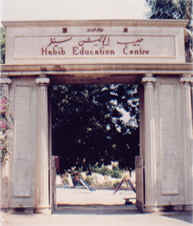 What is "Habibians"?
Few Karachites or frequent visitors to this growing metropolis, or people involved in the field of education at any level, anywhere in the country or abroad would pose the question: Where is Habib Public School? The reason is not just the fact that the School occupies16 acres of sprawling land on Moulvi Tamizuddin Khan Road and has six impeccably maintained blocks of buildings accommodating the Primary, Junior Cambridge, Secondary, Senior Cambridge, Laboratories and Administrative areas, including the School Library, Examination Cell and computer rooms. Nor the fact that the School is blessed with excellent facilities for sports such as hockey, cricket, swimming, athletics, gymnastics, basket-ball, 24-piece brass-band, baseball, volleyball, football and table tennis.
That Habib Public School provides education to 2500 boys and employs 200 staff, including a faculty of 110, to prepare the boys both for the Matriculation and the 'O' level examination of the Cambridge Syndicate, where they do creditably, are also not the reasons for its renown. Or that its professional coaches and full-time physical traing instructors prepare them for outstanding achievements in sports, coupled with discipline and character building. Habib Public School is not just an edifice of bricks and mortar, cement and steel which turns out high school graduates every year for the past 40 years. The number of Habibians (ex-students) has swelled to over 11,500 in these years.
The reputation of this institution rests on the dream for good all-round education, steeped in real Islamic values, to be made available to boys belonging to all segments of the society, including the most deprived, that the late Mr. Mohammed Ali Habib had and which he executed in a relatively short period of time. Throughout its history the School has extended fee subsidy and support to financially deprived but meritorious students which constitute 15 to 20% of the total strength in any given year. The School formally opened its doors to scholars in August, 1959, corresponding to 11 Zeeqad, the Wiladat of Imam Ali Musi-e- Raza (A.S), shortly after the visionary founder departed for his Heavenly Abode. Habib Public School is the concept of excellence and knowledge based learning that its Founding Managing Trustee, the late Mr. Rashid D.Habib, constantly strived for throughout his life. No business enterprise or charitable activity gave RD as much satisfaction as his involvement with Habib Public School.
Founded and conceptualised by his uncle, Mohammed Ali Habib, it was Rashid Habib who built the School, brick by brick, until it blossomed into one of the finest institutions of learning and character-building in Pakistan. There will continue to be in the School the beautiful aroma of a life dedicated to the growth of Pakistan's new generation, progress and sharing with a sense of purpose and faith in Almighty Allah. Habib Public lives in the commitment of its past principals, notably the late Hasan Akhtar who was head of the Institution from 1962 to 1968, and the endeavors of its teaching and non-teaching staff. It is enshrined in the discipline of the boys and the special gifts of each of them, for which opportunities are provided in the School. Habib Public School education is kept alive and perpetuated in the imaginative, perceptive and knowledgeable minds, besides sporting and technical skills of its old students which are now pressed into the service of the society and the nation in practically all walks of national life, including bureaucracy, business, banking, medicine, engineering, armed forces, teaching and others. Former students have donned national and provincial colours in hockey, athletics, cricket, swimming, basket-ball and scouting. "Significantly," recalls Dr. Junaid Ahmed, a management consultant," On July 4, 1976, when the American nation was celebrating its bi-centenary, gathered in a New York Hotel were a dozen young Pakistanis. All of them gold-medallists from Pakistani or American Universities. All of them HABIBIANS." Habib Public School is constantly innovating.
About a decade ago, Habib Public School pioneered the introduction of Computer Science at the Secondary and Higher Secondary level all over Pakistan and its faculty designed the first syllabus for the Secondary courses. In 1997, Habib Public School Sports Department enlarged the concept of tours by sportsmen from within Pakistan to sending a Goodwill Tour to India of its hockey team. If all-Pakistan tours achieved emotional integration, the India Tour resulted in better youth-level understanding of the peoples of the two countries, besides achieving a good name for the country in the neighbouring country. Such tours also hone the sporting skills of sportsmen of the Schhol. Immediately after returning from India Habib Public School won the First Khurshid Memorial All-Karachi Inter-School Hockey Tournament scoring 82 goals in five matches, including a dozen goals in the finals.
In July 1999 the Habib Public School swimming team would be touring Delhi, Aligarh, Ajmer, Gwalior and Lucknow while the hockey team has been invited to the UAE in August, as part of its objective towards character building so that the young men of Pakistan can hold their own before youth anywhere in the world. In order to train boys in Computers the School has introduced computer training right from Class I in three well equipped and upgraded computer labs. Habib Public School honours not only achievers among its pupils but also it teachers and non-teaching staff by giving them long service mementoes and prizes for good work. Last year, three teaching staff with over 30 years' meritorious service were awarded gold medals by the School. These, really, are the "locations" of Habib Public School, where they continue to strive and thrive. That is where Habib Public School really is.